A bug has been found in Logic 8, which doesn't allow traditional Apple Loops or WAV files to change tempo within a Logic 8 session.  Until Apple fixes this bug, here is how you get your Apple loops and WAV loops to adjust to any tempo you set within your Logic 8 session:
Step 1: Open up a new session and create an Audio track. My session looks like this: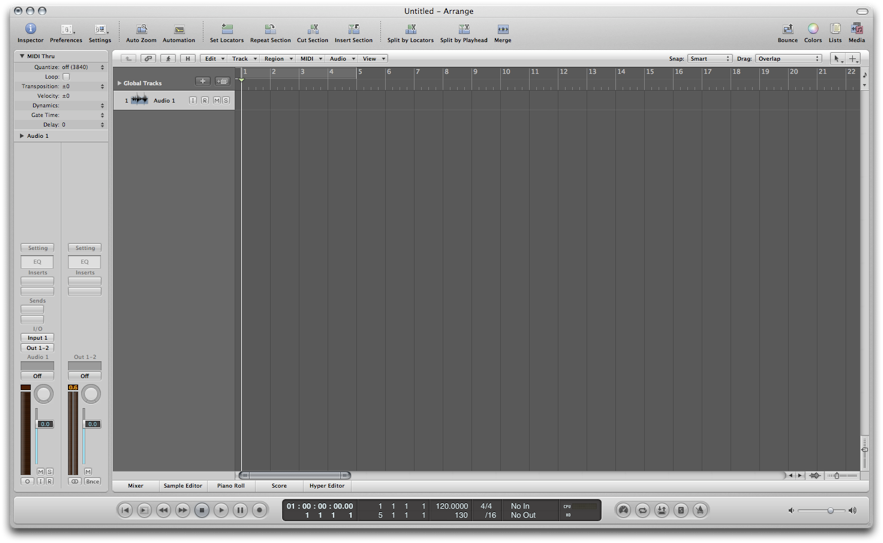 Step 2: Go to "File" and select "Import Audio File"
Step 3: Use the Browser (see picture below) to find the music loop you want to use.  It can be a .WAV, .AIFF, or any other Audio file that Logic can recognize (Note the Tempo of the loop you are importing).
*I am using the "Piano" Loop from Loopset 01 (105 BPM) from our East Coast Grime Theory Vol 1 (see picture below). I actually used the AIFF version of this file, which we prepared in the Apple Loops Utility. P5audio.com can provide these Apple Loop prepared files for you upon request.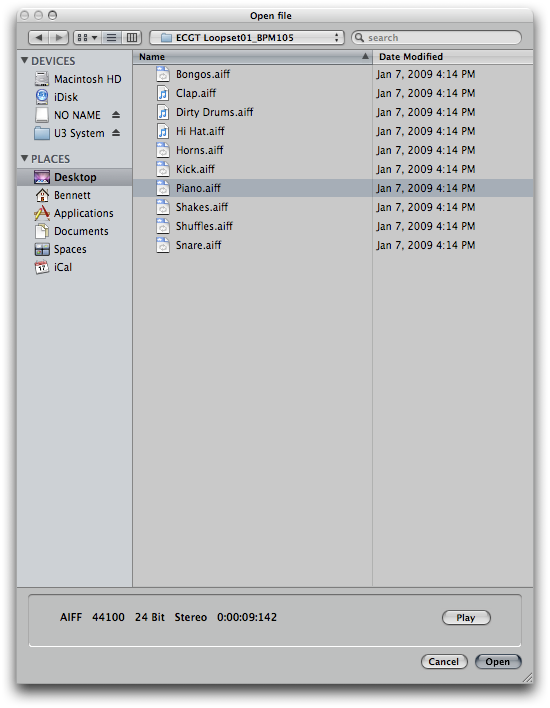 Step 4: Now that your loop has been imported onto the audio track, change your Session tempo so that it corresponds with the tempo of the imported loop (105 BPM). Also make sure that your locators are set at the head and tail of the imported file (you can see this in the picture below) Click on your loop to make sure that it is selected.  If selected, the name of the loop should be in white lettering with a dark gray background stretching across the entire region, as shown below.
Step 5: Click on the "Region" Tab which lies directly above your Bar markers on your Timeline (you can see it there in the previous picture). A drop down menu will appear with the first option being "Add to Apple Loops Library". Select "Add to Apple Loops Library" (shown below).
Step 6: A New screen will now open up. You can tag your file with different attributes so you can find it easily within the Apple Loops browser later. This is what the Dialogue looks like:
The first thing you want to do is make sure that you set the Type to "Loop". You can leave the Name the same as the original, or you can make up something unique. Also make sure to tag your loop with at least one attribute. As you can see, I tagged it in the "Keyboards" category as a "Piano" Loop. It is also tagged as a "Single" instrument. Whatever attributes you use to Tag it or name it with, just make sure that you make a little mental note so that you can find it later!
The Loop will be added to your Apple Loops Library, which is exactly what we needed!!
*NOTE, the Loop that we just Added to the Apple Loops Library is still not in use. We must import the newly added loop to the sequencer and then we can use it. Keep Reading!
Step 7: Mouse over to the Upper Right hand corner of the Logic window and Click the "Media" button. The Sidebar will pop out and you have the option of selecting several tabs up at the top. Select the "Loops" Tab. This is where you will want to recall those attributes you tagged your file with. As you can see in my picture, I just clicked on "Piano" within the list of Attributes and as a result a bunch of files came up in the window at the bottom of the screen:
I knew that my Loop was created at the Tempo of 105 BPM. So i just scrolled through that list to find the loops at Tempo 105, and sure enough my "Piano" file is waiting for me (see above).
Step 8: Now that you have your new file located, DELETE the original one that has been sitting on that audio track all this time. Now Just grab the NEW file from that list and drag it to where you want it on your sequencer.  Logic will automatically create a track for it if there is not one present already. Below you will see my sequencer that has the Original file still hanging out there, and the converted Loop is hanging out on the same track but One bar later. Notice how they look exactly the same…don't mix them up!
Step 9: And here (see picture below) is my sequencer with the converted Loop in place of the original. This loop will now conform to any changes in tempo I make during the session! As you can see, the tempo is set to 199 BPM and the Loop continues to conform to 4 bars. This means that the loop will in fact playing back at the faster tempo, and is easily confirmed by hitting the spacebar
This process will work for any type of audio file that Logic can recognize. If you get music loops from from P5audio, you can download the .WAV, .REX, or .AIFF format of any Looping product – so use whatever files you are most familiar with and don't worry!
Hope this helps.  Let me know if I left anything out!
-Bennett